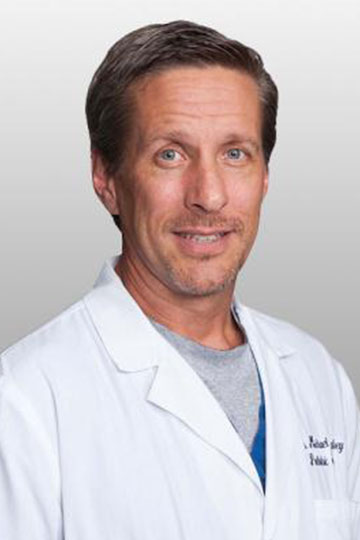 Dr. Haughey, D.P.M.
Michael Haughey, DPM has joined practice with Jonesboro Orthopedics and Sports Medicine physicians Brian Dickson, MD, Spencer Guinn, MD, Jeremy Swymn, MD, and Brandon Byrd, MD. Dr. Haughey will specialize in podiatry and foot and ankle injuries. He is board certified from the American Board of Foot and Ankle Surgery, and a fellow of the American College of Foot and Ankle Surgeons (FACFAS). Dr. Haughey has practiced podiatry in Jonesboro for over 27 years and is a respected allied health staff member of the St. Bernard's Medical Group, and a provider at the St. Bernard's Wound Healing Clinic.
Dr. Haughey graduated from Illinois State University in 1985 and graduated from the Dr. William M. Scholl College of Podiatric Medicine in 1989, where he later served as a podiatric surgical resident at Columbus/Cuneo Hospital. Dr. Haughey is fluent in Spanish and has been providing medical care on medical mission trips for 14 years to the third world country of Colombia, South America. He is also the Co-Medical Director of the Children's Vison International Inc. Medical Mission Team.
Among many other accolades and services to this community, Dr. Haughey is a board member for the Stop the Bleed Foundation, a reserve officer for the Jonesboro Police Department, and also serves as the Arkansas State University Athletics Team Podiatrist.
Dr. Haughey resides in Jonesboro and is married to wife Nikki Haughey. They have three children, Corey Haughey, DDS, Max Haughey, and America Haughey. He is a member of the Journey Baptist Church.
Dr. Haughey will specialize in treating:
Foot and Ankle issues (ingrown toenails, bunions, corns, etc...)
Foot and Ankle Sports Medicine (fractures, sprains etc...)
Diabetic Foot Care
Foot and Ankle Wounds
Foot and Ankle Surgery
Ankle Arthroscopy